Findall our newsCDDM 2022
A BAL to welcome spring by dancing
March 26, 2023 18:00 p.m. – The Hall of White Coats
Dear Dancers!
We will be pleased to invite you to our spring ball.
for its 2nd edition, orchestrated by Soir de Bal.
You will find rock, salsa, tango, chacha, waltz etc.
Open to all, all levels.
Free admission from 18:00 p.m. to 22:00 p.m.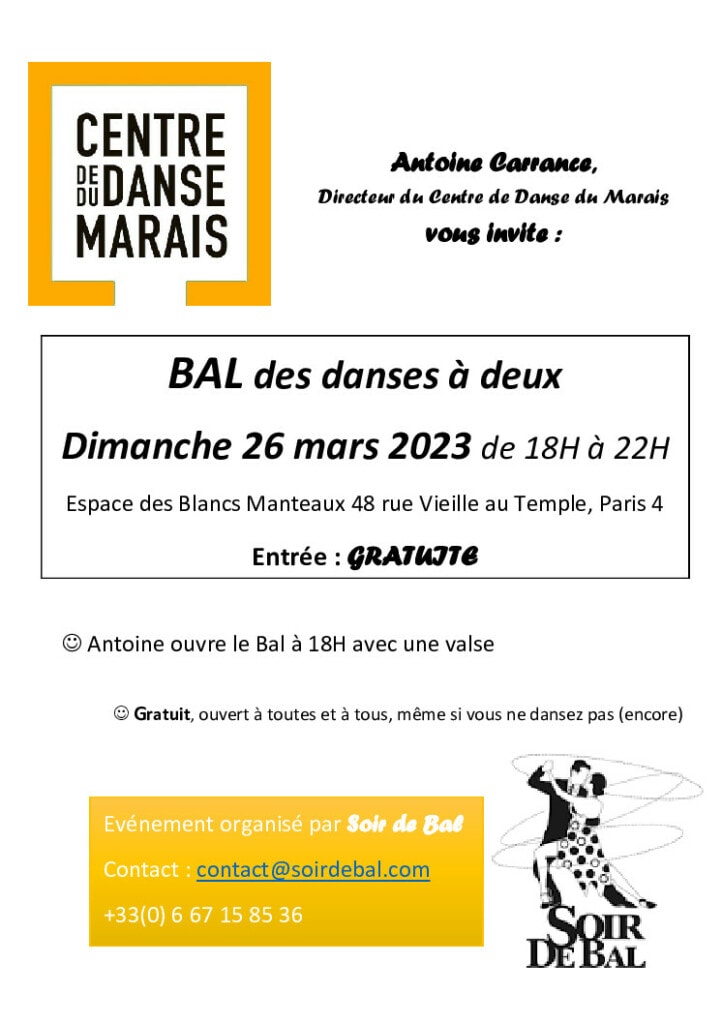 Dance all year round with our 2023 Discovery Passes
Explore many dance styles with the best teachers in an exceptional setting. Whatever your age or level, with family or friends, you are sure to find your favorite class at the Center de Danse du Marais. To be collected from reception – upon presentation of the invoice or order number – before the start of your course.
What can I say except that I miss the center?
A few lessons in 1990 when I arrived in Paris, then weekly lessons since 2011, the center is twisting your feet in the pretty paved courtyard, climbing the main staircase and admiring the angels in the Beethoven room during the barre at the Mikaël's floor, the music he chooses with so much care, his attention and his rants when we are not listening,
It's laughing with Daniela during her classical lessons, and also the contagious energy of Maïmouna, who taught me so much by moving my buttocks
All my support, I can't wait to come back.
Emmanuelle
Genial, a bath in the artistic
Martine
For a long time, I didn't dare come to the Center de danse du Marais: it seemed impressive and mysterious to me… And then I took the plunge and discovered a place and teachers who were warm, attentive, kind and I regretted for not coming sooner! I hope I can continue to come!
Helen
My favorite place to teach. The walls have a story and the atmosphere is conducive to well-being and fulfillment through activities that are sources of passion.
Lydie
Because it's about such a particular perfume, a creaking parquet floor, notes escaping from a piano, because there's life, dance, music, singing, laughter and tears but above all the love of shared art...
Laurence
Entering the Center de Danse du Marais is like stopping time, just to live for yourself and your passion.
Probably one of the first places I want to go at the end of this period 🙂
Thank you for bringing this magical place to life.
Clear
My pride when I first entered this temple dedicated to the body and its beauty in motion ………………
the pleasure renewed each time when I enter the gym to do my exercises under the gentle and benevolent authority of Myriam Viguié in the studious and friendly atmosphere that she maintains
Nicole
The Dance Center allowed me to rediscover my passion for classical, and I am so happy to dance again! Thanks
Lucille
I am very gratefull for the teaching of Maggie Boogaart, Ghislain de Compreignac, Irene Van Zeeland and Nathalie Bochenek! They are working hard to provide us dance lessons during the quarantine time, and to allow us to maintain high quality physical activity alongside with great hope and passion. We are so lucky, thank you
Cassie
In these unique, chaotic moments, I think of Micheline, the tireless creator of the Center du Marais, the support she gave me, her generosity and her intelligence.
I think from where she is she is waving a lot of things that will help everyone get through the ordeal.
Be well, you and your loved ones!
Beatrice
Don't miss today's classesat the Marais Dance Center#paris
Sunday courses and workshopssoon to come#dance